A container for Attat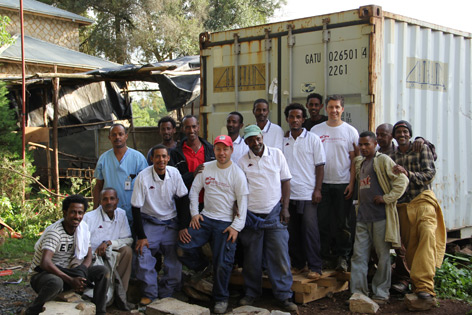 The organisation "Medici dell'Alto Adige per il Terzo Mondo" (ich wuerde hier den italienischen Namen verwenden da wir in Italien sind) (South-Tyrolean Doctors for the Developing World) organises and runs relief projects in some of the poorest countries in Africa. We were approached by this organisation and asked to evaluate the performance of medical equipment that was collected across hospitals in South Tyrol and repair it if necessary.
We agreed to cooperate with this project and organised with other companies and volunteers a container with ultrasonic devices, beds?"Liegen – sind das Betten?", operating tables and operating lamps, ECGs, and other equipment and accessories. In January 2013 this container was sent to Attat, an Ethiopian city which lies south-west of the capital Addis Ababa (in englisch schreibt man das meistens so, aber Addis Abeba kann man auch schreiben). Attat has a missionary hospital with only 65 beds for a population of 1 million, and people often walk for several days to get treatment in Attat.
In April 2013, while we helped to empty the container and to install the equipment in the hospital in Attat, we became very aware of the situation there - a world considerably different from that we are used to in industrialised countries. (Hab es hier ein bisschen veraendert weil man das auf Englisch nicht uebersetzen kann und besser kurz, und konkret ist)
As we had the opportunity to experience this world first-hand, one of our new aims is to help those who are not as privileged as ourselves. We will therefore continue to support "Medici dell'Alto Adige per il Terzo Mondo" and offer them our assistance and knowledge.